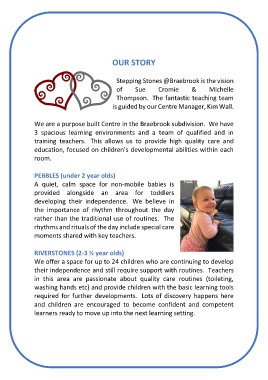 OUR STORY

                                      Stepping Stones @Braebrook is the vision
                                      of   Sue     Cromie    &     Michelle
                                      Thompson.  The fantastic teaching team
                                    is guided by our Centre Manager, Kim Wall.

            We are a purpose built Centre in the Braebrook subdivision.  We have
            3  spacious  learning  environments  and  a  team  of  qualified  and  in
            training  teachers.   This  allows  us  to  provide  high  quality  care  and
            education, focused on children's developmental abilities within each
            room.

            PEBBLES (under 2 year olds)
            A  quiet,  calm  space  for  non-mobile  babies  is
            provided  alongside  an  area  for  toddlers
            developing  their  independence.   We  believe  in
            the  importance  of  rhythm  throughout  the  day
            rather than the traditional use of routines.  The
            rhythms and rituals of the day include special care
            moments shared with key teachers.

            RIVERSTONES (2-3 ½ year olds)
            We offer a space for up to 24 children who are continuing to develop
            their independence and still require support with routines.  Teachers
            in  this  area  are  passionate  about  quality  care  routines  (toileting,
            washing hands etc) and provide children with the basic learning tools
            required for further developments.  Lots of discovery happens here
            and  children  are  encouraged  to  become  confident  and  competent
            learners ready to move up into the next learning setting.